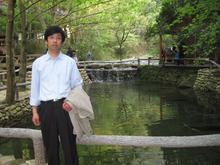 MAO Fenglin
Job title:Professor
Field of study:Japanese Pragmatics; Japanese-Chinese Contrastive Linguistics
PostsHeld:
Supervisor for MA students at SMU; Head ofPostgraduate Studies of Japanese Department of SMU, former Dean of JapaneseDepartment of SMU and Yantai University, former Head Teacher of YantaiUniversity. Professor Mao has taught a range of subjects and currently isteaching Japanese Linguistics, Japanese Pragmatics, Ethnolinguistics for MAstudents and Advanced Japanese for undergraduate students.
Qualifications:
MA in Japanese Language and Literature ofChibaUniversityinJapanin 1991.
BA in Japanese Language and Literature ofShanxinUniversityin 1982.
ResearchInterests:
Japanese pragmatics, culture linguistics andJapanese-Chinese contrastive linguistics.
Publications:
More than 30 papers published in core academicjournals both home and abroad, such asthe Journal of Japanese Language Studyand Research, Foreign LanguageResearch, Foreign Language Teaching, Foreign Language and Foreign LanguageTeaching, Journal of Tianjin ForeignLanguage Institute, and Journal ofXi'an Foreign Language Institute.
ResearchProjects:
Completion of a research project of Shanghai MunicipalEducation Commission.
Completion of a research project ofShanghaiMaritimeUniversity.
Two awards for achievements in scientific research.
AcademicActivities:
Senior Visiting scholar of The Japan Foundation in2011.
Senior Visiting scholar ofChibaUniversityinJapanin 2005 -2006.
Visiting scholar ofChibaUniversityinJapanin1987-1991.